SERVING THE SOUTHEAST SINCE 1868!
Much like your private practice, we have always been independent and privately held, with a commitment and desire to meet the needs of those we serve.
Today, through knowledgeable and caring territory managers and customer service representatives, your supply orders are filled and shipped the day they are received, from a well stocked, state-of-the-art distribution center. Our Advantage Prime program is designed to reward and thank you for your business.
Atlanta Dental is continually growing and expanding throughout the Southeast. For 150 years and counting, Atlanta Dental has placed the needs of its customers first. We have a State-Of-The-Art Showroom for Equipment and Technology, plus experts to help determine what is the best choice to meet your needs. We have factory trained technicians to install, protect and give longer life to your investments and answer any questions you may have along the way.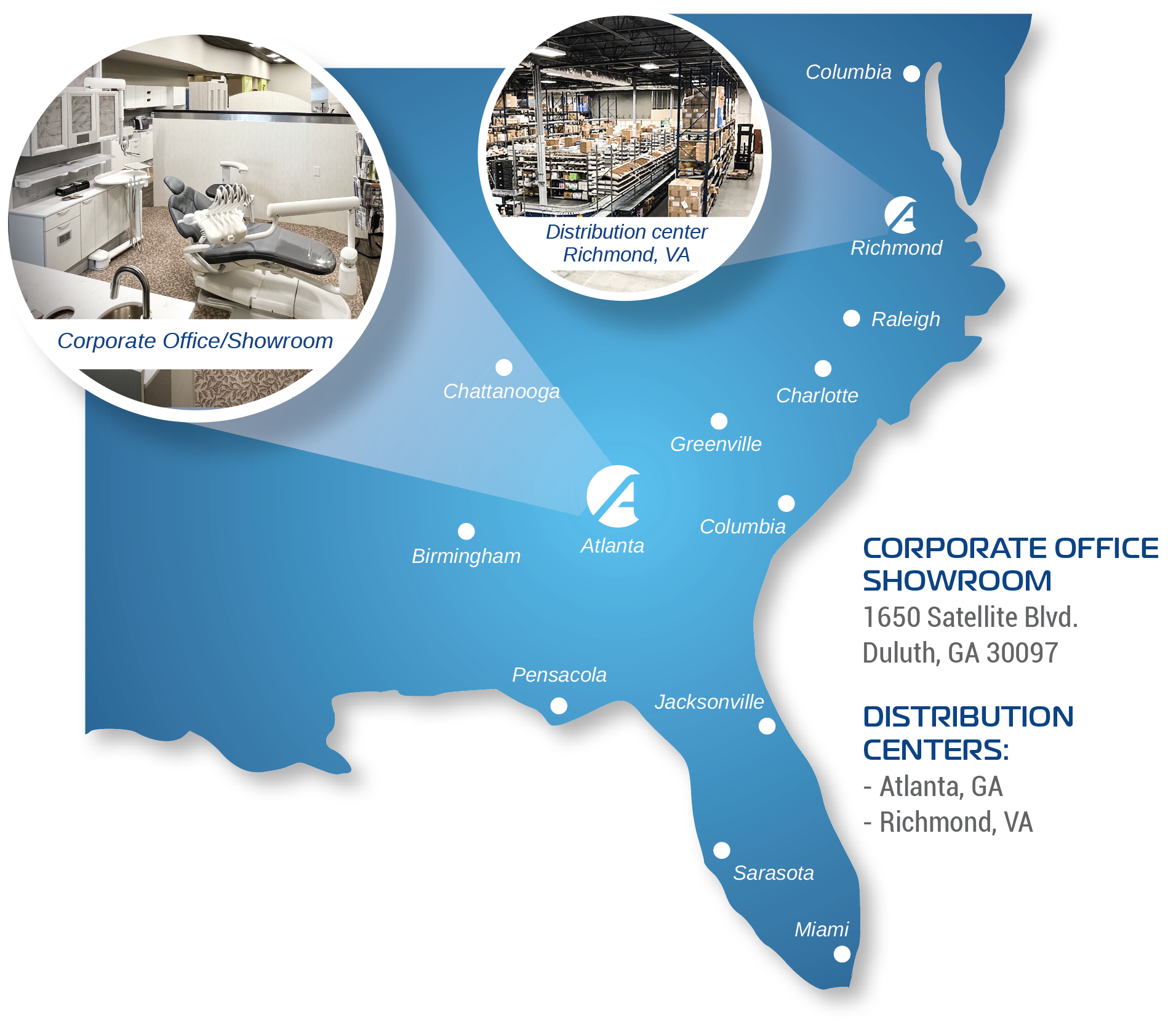 Atlanta Dental is continually expanding its territories
throughout the Southeast.
GEORGIA - CORPORATE OFFICE
1650 Satellite Boulevard
Duluth, GA 30097
678.584.4884
800.241.3743
fax: 800.241.3748
NORTH CAROLINA
301 McCullough Dr, Suite 150
Charlotte, NC 28262
4805 Green Rd, Suite 116
Raleigh, NC 27616
SOUTH CAROLINA
3229 Sunset Boulevard, Suite L
West Columbia, SC 29169
Downtown NOMA Tower
220 North Main Street, Suite 502
Greenville, SC 29601
ALABAMA
Two Perimeter Park South, Suite 315
Birmingham, AL 35243
FLORIDA
4811 Beach Boulevard, Suite 101
Jacksonville, FL 32207
8031 Cooper Creek Boulevard, Unit 201
University Park, FL 34201